This year, March 30 marks the date we celebrate the most important woman in our lives. This corresponds to the day when Mother's Day or Mothering Sunday is commemorated in the UK, a close neighbour of Ireland. The dates might be different around the world but just like in other countries; the Irish people honour their mothers for all the love and support they have received over the years, on this special dedicated day.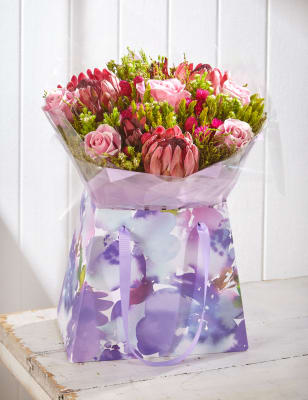 The entire country is expected to be flooded with flowers on the 30th. Some of the most popular flowers given on Mother's Day are callas, freesia, gerberas, hydrangeas, irises, lilies, orchids, roses and tulips. Pink is the traditional colour for this special day but nowadays, people are opting for bolder colour combinations for flower arrangements. A famous online retailer offers some advice to people who want to experiment with more sophisticated combinations. According to Simon Richards, M&S flower specialist, trusting your own judgement when it comes to colour is very important. "Two simple rules are to either combine tonal shades of one colour or choose vibrant clashes such as cerise, purple and yellow. I do not mix red and white as this can look harsh," explains Richards.
If you think flowers aren't enough to show your mum how much you cherish her, you can also whip up a simple appetizer for your Mother's Day dinner provided that you are dining at home. This is a simple but remarkable recipe from Food Network celebrity chef Giada de Laurentiis: Sweet Pepper Crostini. It is so easy; you can do it in as little as 17 minutes.
Ingredients:
6 slices baguette (1/2-inch thick)
2 tablespoons olive oil
1/2 to 3/4 cup roasted red bell pepper strips
1/3 to 1/2 cup grated smoked mozzarella cheese or fontina
Instructions:
First, preheat the oven to 190ºC (375ºF). On a baking sheet, arrange the bread slices. Brush some oil over the bread slices. Bake for about 15 minutes until pale golden and crisp. Arrange the bell pepper strips on top of the bread. Sprinkle with mozzarella. For about 2 minutes, grill until the cheese melts. Makes 6 servings.
Happy Mothering Sunday
Ruth